One of the reasons I love my major so much is that for every geology class offered, there is a field trip component that goes along with it. We get to actually see what we are learning in the field instead of in a powerpoint slide or a textbook. This is also one of the reasons I decided not to go abroad–as a geology major, we get to travel a lot anyway!
Last weekend was the invertebrate paleobiology field trip. My class went to Calvert Beach in Maryland to stay the night and look at Miocene-aged cliffs and poke around looking for fossils. Even though it was a bit wet and rainy, we had a lot of fun.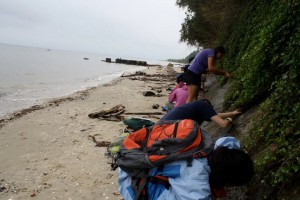 Above are some of my classmates looking at the fossils, and below is a close-up of what they are looking at! The first is an internal mold of a bivalve (not the actual shell, but an impression of the shell in the sediment), and the second are really tiny gastropod shells.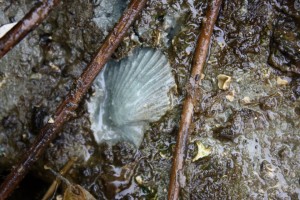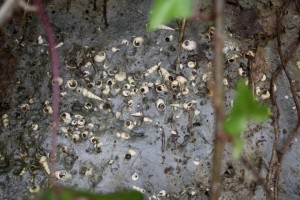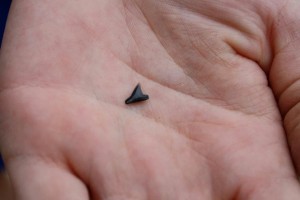 We also spent some time looking for shark's teeth on the beach. Here's one tiny one that I found.
The next step was to take the samples we collected back to the lab to clean them and identify them. Then the class will compile their work so we can use them to help us with our individual research papers which we will be working on for the rest of the semester.
Here's some pictures from back in the lab.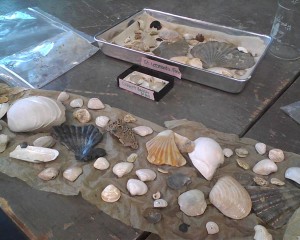 My cleaned samples that I collected while on the trip.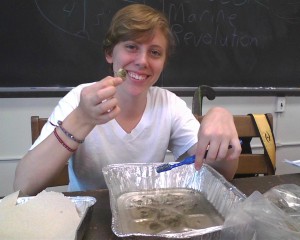 This is Erin, another geology major. She is a junior.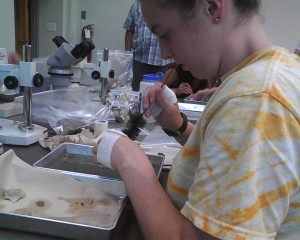 Holly, a senior physics major/geology minor cleaning her samples!